(THE BIO-MEDICAL WASTE PROCESSOR)
The Covid-19 crises has given birth to new wastes: like PPE suits, masks, bottles of sanitizer etc. In nutshell, we need a technology which is capable to dispose this waste instantly without affecting the environment.
The ongoing pandemic has led to massive increase in use of disposable products and the medical waste is accumulating day by day and there is no easy and safe method for its disposal.
The Govt. has constituted "COVID-19 Waste Disposal Rules", which focus on 'SCIENTIFIC AND SAFE DISPOSAL' of such waste, so that it does not pose hazard to environment.
DrossMed is an innovative technology for scientific disposal of waste generated from health care institutes and use of protective gears. It is the only technology which is plug & play and can treat waste at site by converting it into usable, eco-friendly, economically viable end product RDF or Green Coal.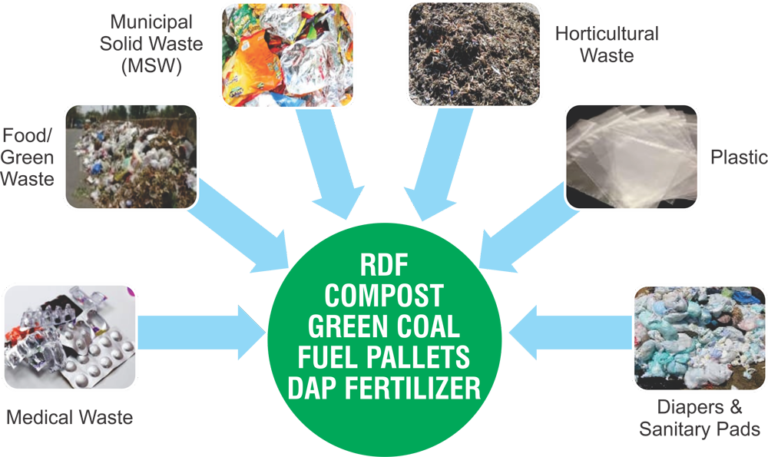 Low-capital investment – Cost is fraction of incinerator
Low-running cost – Waste processing is very fast, thus drastically reducing running cost.
Small foot-print – No large dedicated land required. Can be installed within premises or in small plot of car parking size, in hospital. No emissions or bad smells at all. Exceptionally no maintenance and easy operation.
Eco-friendly – no emissions at all. Uses proprietary process in which emissions are trapped in water. Process works on the principal of reduction with absolutely no burning in presence of oxygen hence, no smoke and emissions.
Minimal labor needed – Smart, fully automated machine. Can be operated by single person.
Processed waste commands commercial value and can be sold as 'solid' fuel – The processed waste has calorific value, is safe and nonhazardous. Can be sold as fuel to brick kilns and also for boiler operations.
The process is based on Induced Catalytic Pyrolysis (patented technology) followed by reduction and fractional distillation in which environmental norms are carefully adhere to.
The entire process is economical, proven & sustainable.
Contact us for more information

A Lot Goes into achieving zero waste
Technology implementation
Contact us for more information